Beer Glass Guide
Utilizing a variety of glassware is one way to enhance the pleasures of beer drinking. It is all to often ignored, but different glasses can bring out different aspects of a beer. It can be surprising how a beer will taste from a certain type of glass as opposed to another. While the traditional pilsner glass is probably the best all around glass for enjoying beer, a Duvel style tulip shaped glass can enhance a beer's aroma. While a larger, more rounded glass will be more suited to a heavier, maltier beer. Wheat beer is almost always served in a tall narrow glass. Beyond how the style of a glass will effect your perception of the beer's taste, other physical characteristics of the glass may suit your mood at a given moment. Sometimes the heft of a pub pint glass just feels better in your hand than a footed pilsner glass. Should you keep beer glasses in the freezer? Most beer aficionados shun this. A chilled glass can rob a beer of its aroma while an overly chilled beer can stun the taste buds. The bottom line though, whatever enhances your drinking pleasure is best. Lee's brewery recommends keeping a multitude of glassware handy with some kept in the freezer, others kept at room temperature. Then you'll always have a variety handy to suit the beer style and your mood.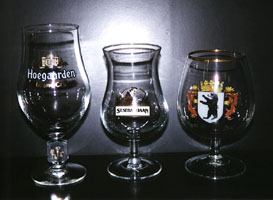 At the right are some examples of tulip shaped glasses generally associated with Belgian beers. The shape of this glass can enhance a beer's aroma. From left to right we have a Belgian Hoegaarden Grand Cru glass, St. Sebastiaan glass and a souvenir glass from Berlin.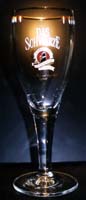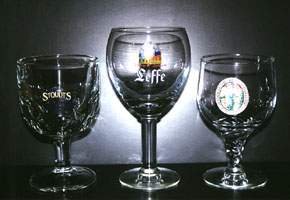 At the left are some example of larger rounded goblet style glasses that are generally suited for heavy and malty beer styles. At the far left we have a "Das Schwarze" glass from Frankfurt Germany. (a great dark beer) The goblet second from the left is also sometimes used for a Berliner style wheat beer. Also shown are glasses from Leffe and Hoegaarden. (also excellent beers)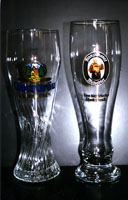 At the right are two examples of traditional German wheat beer glasses. The left glass is from Oberbräu while the right glass is from Fanziskaner..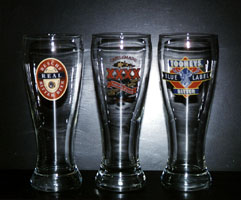 At the left are examples of traditional pilsner glasses. A pilsner glass is the best all around glass for enjoying beer. From left to right we have glasses from Reschs, XXXX and Toohey's.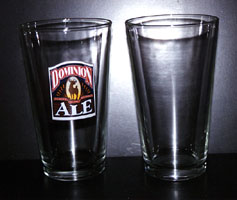 At the right we have Lee's Brewery's favorite style of glass, a traditional pub pint. These are hefty glasses with a good solid feel to them. On the left is a glass from the Old Dominion Brewing Company in Ashburn Virginia, USA.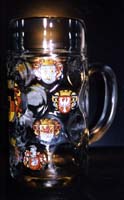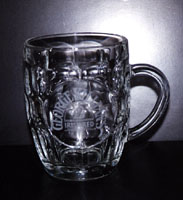 At the left we have two examples of handled mugs, a liter ocktoberfest style mug from Frankfurt, Germany and a Killian's 16 ounce dimple mug. Handled mugs, of the glass variety, seem to have lost favor in today's "sophisticated" beer drinking circles. It's always nice to have one handy though!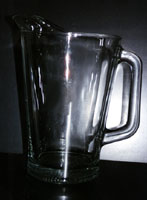 Lastly, a beer pitcher is nice to have on hand at a home brewery. Particularly if the beer bottle your pouring from is larger than the glass. First pouring large beers into a pitcher, then pouring from the pitcher into various glasses will help prevent yeast sediment from getting into your glass.

---
Revised: Thursday, January 01, 1998 19:50:16
Copyright © 1996 by [Lee's Brewery].
All trademarks or product names mentioned herein are the property of their respective owners.