New Three Vessel Brewing System!
This is Lee's Brewery new 15 gallon three vessel brewing setup! The equipment was purchased from Precision Brewing Systems. Each vessel has its own natural gas burner and thermometer. The hot water tank and boiling kettles have sight glasses with volume markings in half gallon increments. Other accessories include a magnetic pump, stainless steel hop back and counter flow wort chiller. Click on a portion of the image below to see close up pictures as well as component descriptions. Or see a Power Point presentation on how the system is used.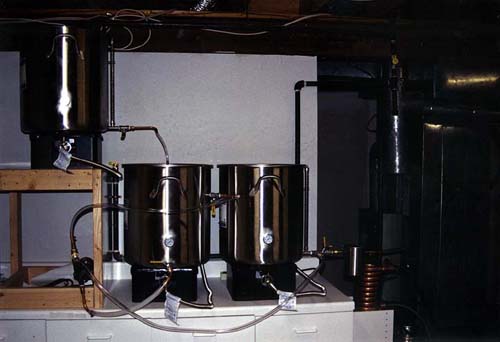 Click on appropriate area of the above image to a see closer view and description of individual components.
Hot water tank | Mash Vessel | Boiler | Burner | Lauter arm | Pump | Hop back | Chiller
Power Point presentation of how the 3 vessel brewing system is used
Click here to see Lee's Brewery former stove top three vessel brewing system.
---
Revised: Sunday, February 06, 2000 21:09:26
Copyright © 1996 by [Lee's Brewery].
All trademarks or product names mentioned herein are the property of their respective owners.